News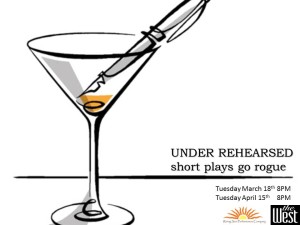 Rising Sun Performance Company (Akia, Founding Artistic Director) announced today that it will present a new short play reading series "UNDER REHEARSED" and have partnered with The West Brooklyn as their venue.
First  Dates: Tuesday March 18th and Tuesday April 15th 8PM
Visit our EVENTS PAGE for more details.
The Reading series is intended to create new artistic relationships with Guest Directors, Playwrights and Actors as well as provide a fun and engaging night for our audiences. The Series will of course also feature the critically acclaimed ensemble of Rising Sun. The Creative Team for each series will be announced a week prior to each series, and will be listed on RSP's Website, Facebook and via media outlets. The plays will be 10-15 minutes long, and each reading will have a short break in between to allow for conversation, libations and connection between the artists and audience.
The West Brooklyn is the perfect location for this fun and informal monthly gathering and reading, Akia, Rising Sun Performance Company's Founding Artistic Director, is thrilled to present these short plays in such a wonderful and artistically nurturing environment and for us to bring our work out to Brooklyn audiences.
"Rising Sun Performance Company is a youthful, enthusiastic company and I look forward to
seeing more from them."
William Coyle, Off Off Online
"It's worth the price of admission to see the Rising Sun Performance Company's aspiring talent."
Jennifer Rathbone, Theater Online
"Ridiculously talented ensemble."
MetroMix