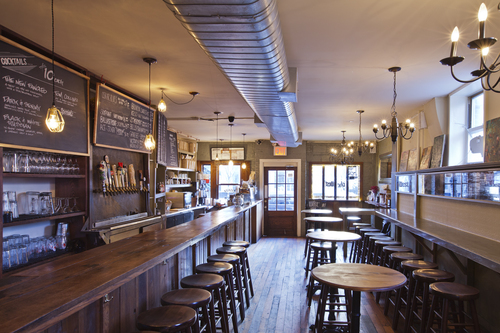 For Immediate Release
Starbucks is set to open in Williamsburg, Brooklyn mid-summer, just one block away from a locally owned coffee house, THE WEST, at 379 Union Ave.
To some this seems emblematic of the end of an era, but I believe this chain establishment will only help to highlight the best of what a locally owned business has to offer.
In response to the Starbucks opening, The West's owner, Esther Bell, says, "We have bathrooms too… no seriously we've always been about supporting the community—we have great locally roasted coffee, craft beer, and cocktails. But above all, we partner with artists, web developers and programmers for presentations, fundraisers, screenings, and readings.  Our neighbors come to us because they feel we are an extension of their home, or a comfortable place to work and have a good time."
A film writer and director who has called Williamsburg home for over twenty years, Esther Bell opened The West in 2010, naming her establishment after Brooklyn-born artist and entertainer, Mae West, who was very progressive for her time. Just as Bell hopes to cultivate a supportive environment for creatives and locals alike, Mae West supported all types of people (women, gay men, African Americans in the late 1920's) in her very successful theater career as writer/producer/actress in Brooklyn and Manhattan before becoming a witty sex symbol in Hollywood.
This may sound like a classic tale of David Vs. Goliath, but The West's focus won't be on competing with Starbucks. As someone who uses The West as a home-away-from-home office almost every day, it is hard to imagine that a new generation of locals would ever find themselves in a generic coffee franchise listening to Starbucks muzak compilations.
When you look around at what small local businesses are offering the community, Starbucks falls short.  At The West I can enjoy cold brew coffee on tap, and, if I feel like a beer later, they have 14 to choose from.  With a full liquor license and great specialty cocktails, the West is the perfect place both to work and to relax with friends in the backyard, which, incidentally, is curated by a local gardener.
In addition to supporting community events, the West has made a point of using local vendors such as Brooklyn Roasting Company, Dona Chai, Two Moon Shortbread, and Dough Donuts. Unlike Starbucks, The West uses non-GMO local farm fresh milk from Battenkill Creamery.
The welcoming of Starbucks by the owner of the luxury rental condo building at Union and Ainslie marks a dramatic shift sweeping through Williamsburg. My concern is that Starbucks is just the beginning of a trend toward more expensive commercial leases, which will ultimately prove detrimental to a lively mix of small local businesses. "All the coffee, cheese, and sandwich shops a block away on Lorimer St., are a great addition to our little small business village away from the Bedford Ave. chain stores," says Esther Bell.
While Starbucks has landed in Williamsburg, and is here for the foreseeable future, it is unlikely that it will ever become as interwoven with the community as a host of locally owned small businesses like the West.
The West established in Sept 28, 2010, is a coffee house and full liquor bar, with 14 beers on tap that provides a comfortable spot to eat, work, converse or be entertained.
Contact Esther Bell or Douglas Turner at contact@thewestbrooklyn.com